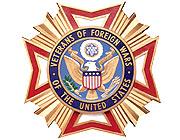 Veterans of Foreign Wars



Veterans of Foreign Wars

Remembering Our Veterans Nov. 11
Veterans Day Time to Thank Our Military Men and Women

Today is a day for every one of us to celebrate the service of all of our veterans. While many fought during time of war and many served during peace, all swore to do whatever their country asked of them to maintain peace and prevent war.

Regardless of where they served or what branch they were in, each did his/her very best so you and I can continue to enjoy the liberties and rights we hold so dear to our hearts.

So far, more than 1,100 American military members have died and thousands injured in the war on terrorism. We cannot bring back those who lost their lives in battle, but what we can do is honor them by demonstrating appreciation in everything we do to ensure veterans receive every entitlement and benefit they so richly deserve. By doing so, we pay tribute to their contributions in creating a future world free from fear despite the personal cost to them.

Thank you veterans. Our nation gratefully thanks you for your self-sacrifice.

God bless America!
John Furgess
VFW Commander-in-Chief.